Psych student wins micro-grant for pandemic artwork 
January 4, 2023 - Shelly DeJong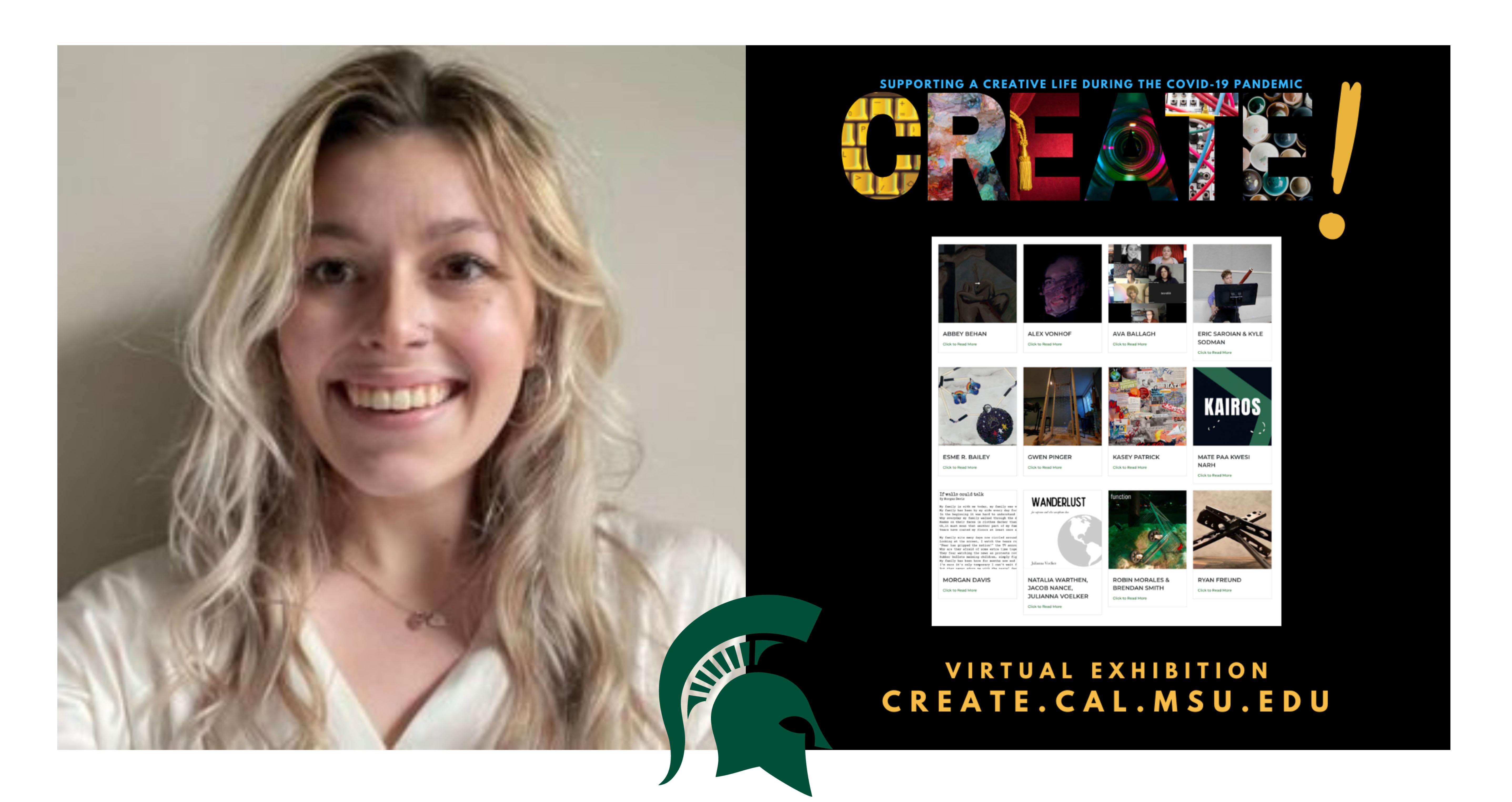 Kasey Patrick, a double major in Psychology and English, was awarded an MSU Create! micro-grant to create a project that critically engages the past, present, or future of the ongoing COVID-19 pandemic. 
Her piece, Paradox Spirits, is a three-part, mixed media collage that travels from pre-pandemic to the height of the pandemic to the present day. The piece looks at the political, social, and emotional states surrounding the pandemic. Patrick also strove to incorporate the overwhelming emotions and the barrage of information that she and others faced throughout the pandemic.  
Patrick hopes that observers can see the complexity of an individual's understanding of the pandemic. A driving force behind the piece are her own feelings that she experienced throughout the pandemic.  
"The pandemic is not good. But at the same time, I never would have grown in the way that I did if I wasn't forced to," said Patrick. "The pandemic helped me learn to self-validate what I'm going through and realize that I need to take care of myself.  
The project allowed Patrick to have a comprehensive view of past events which allowed her a level of perspective. "It was a lot to process; however, it did provide a sense of coping with the world around me and processing the lack of control I have over society. I can only control the way I react, and reflect upon, events in society" added Patrick. 
Patrick, who graduated in December, is grateful for the opportunities that being a Psychology and English double major have given her. This past semester, she worked at MSU's Center for Anti-Counterfeiting and Product Protection where she learned about combatting illicit trade, a career path she's considering. She also hopes to go to law school before getting a doctorate in forensic psychology in the future.   
But finding her path hasn't always been easy. Originally, she attended Purdue with the hopes of being an engineer. She found herself bouncing around majors and ended up taking some classes at the community college after falling ill with mono and becoming immunocompromised during the pandemic. 
She took the opportunity to focus on what she wanted to do with her life, not where she thought people wanted her to go. One of the things she discovered that made her happy was psychology.  
"I've always wondered why people think what they think and do what they do. It baffled me as a child," said Patrick with a laugh. "Every other major you can just walk away at the end of a workday, but not psychology. It impacts every interaction, what you eat, how you view yourself, and so much more. Psychology will always have an influence." 
Patrick's piece and the other micro-grant winners' projects can be viewed virtually here.