Alisar Alabdullah, a First-Generation Syrian Immigrant, Receives College of Social Science's Undergrad Research Award at MSU
May 16, 2023 - Shelly DeJong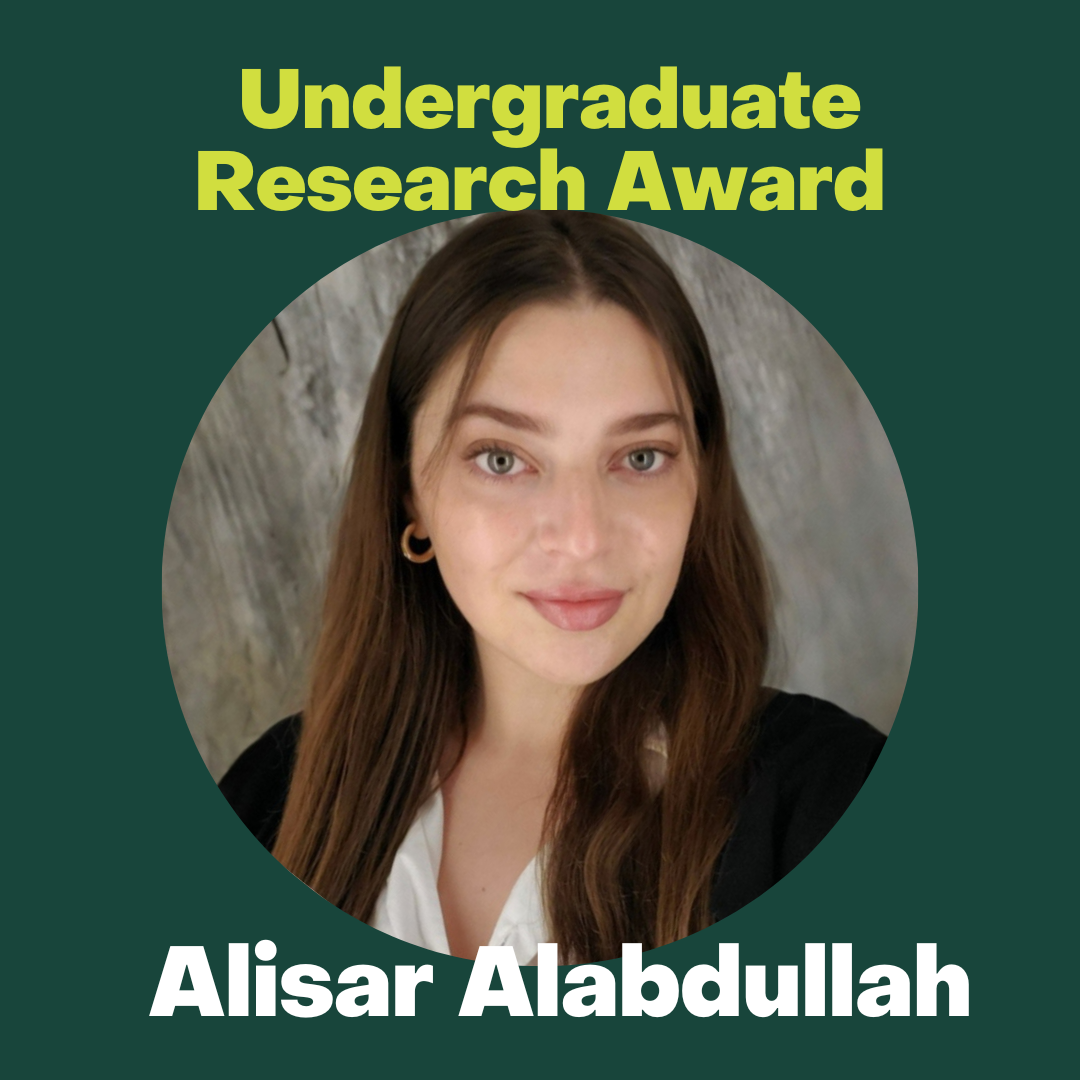 Alisar Alabdullah, a first-generation Syrian immigrant and an honor student majoring in Psychology with a minor in human behavior and social services, recently received the College of Social Science's Undergrad Research Award at Michigan State University. 
"I knew I had big competition, especially after I went to UURAF and I saw all the amazing work from my classmates and students in the College of Social Science," said Alabdullah. "So, I was really pleased that I won the award. It's great to feel that your hard work is paying off and to see your work being recognized." 
The Undergrad Research Award exists to honor students who demonstrate a drive and passion for furthering research in the fields within the College of Social Science.  
"Congrats to Alisar," said Dr. William Chopik, a former instructor and mentor for her Honors seminar class. "She impressed me with her conscientiousness, curiosity, and teamwork skills in working on a collaborative project on personality similarities in romantic couples. Alisar has already established herself at MSU by being heavily involved with research. I'm excited to see where her career takes her next." 
Alabdullah's background motivates her academically and personally. She grew up in Syria and had a relatively normal life until the war broke out. Fortunately, she and her family escaped safely to the US in 2016, where she then had to overcome language barriers and cultural differences. With little English, Alabdullah suddenly found herself taking courses like Chemistry and Physics. Despite these challenges, she was determined to excel academically. 
"I was still processing escaping war, the immigration process, and the culture shock. But you know, I thought if others did it, I can do it, too," said Alabdullah. "I knew that I had to focus on my academic goals if I was going to make a better future. Because my parents don't have college degrees and they don't speak English. I knew I was the only hope for our future." 
After taking a psychology course in high school, Alabdullah fell in love with the subject. Initially, Alabdullah's goal was to become a therapist, but she became interested in research after learning more about the research process and how it could contribute to psychology.  
As a first-generation and low-income student, Alabdullah was worried that finances would limit her future. Thankfully, she was able to secure funding from Michigan State to pursue her studies.  
"I'm beyond grateful for the funding because as a woman, an immigrant, low-income, and a first-generation student, I had all these obstacles to getting an education stacked against me. That fear of financial issues was a huge stressful thing to think about, so I'm beyond grateful for Michigan State University." 
During her second year at Michigan State, she received an Honors College Wielenga Research Scholars Program scholarship that allowed her to work with Dr. Richard Lucas in the Personality and Well-being lab. Here, she was introduced to a lab setting which provided her with valuable knowledge about research methods and how psychology research can make an impact. In the lab, Alabdullah and her peers would meet weekly with Dr. Lucas to discuss a research article, analyze its strengths and weaknesses, and sometimes even try to replicate the study. She found that reading, analyzing, and critically thinking about research was an excellent way to learn and prepare for future research work. 
"Alisar's contributions to our projects have been exceptional," said Dr. Lucas. "She has a deep understanding of the goals, methods, and results of these projects, and she does a great job explaining this research to others. It's been great having Alisar in our lab!"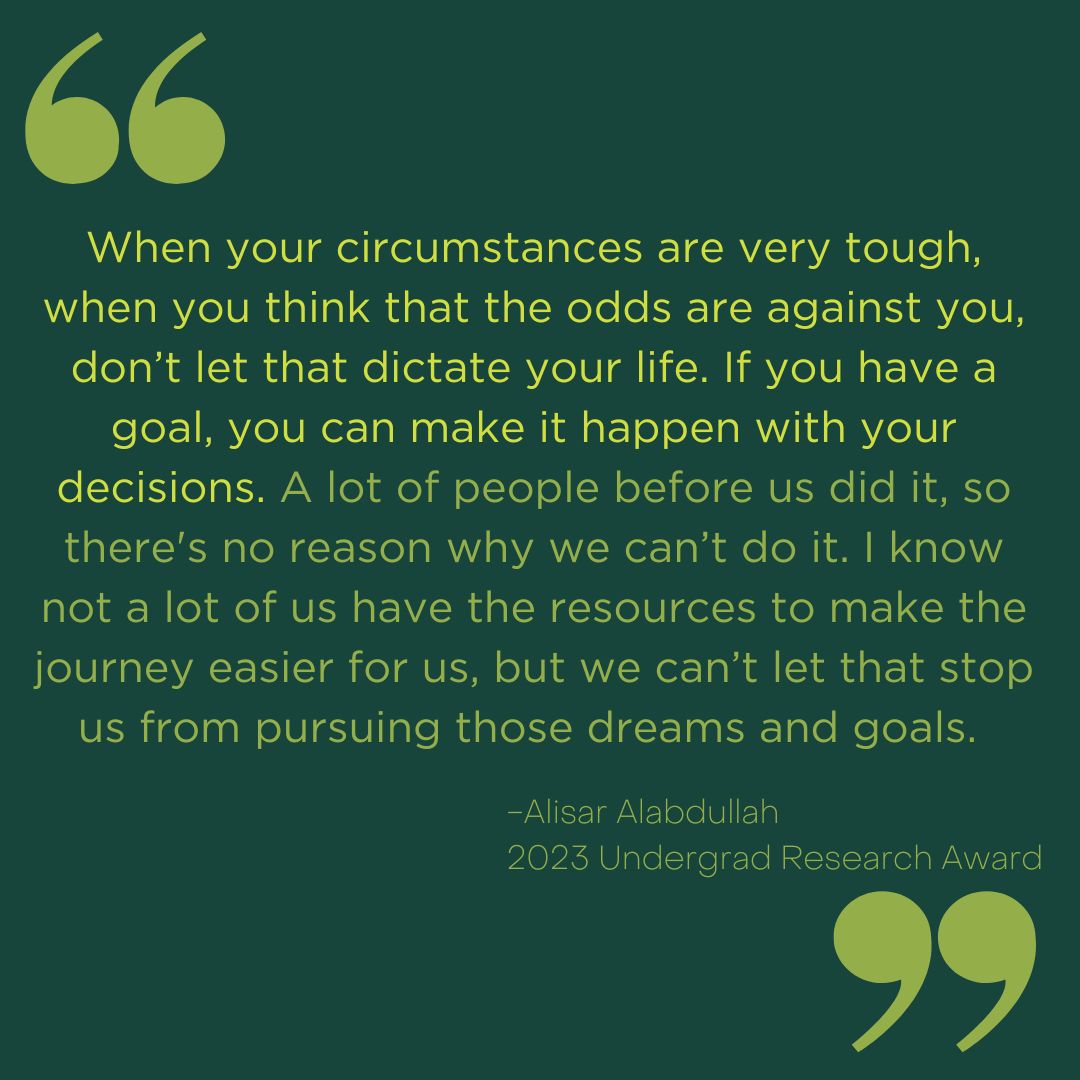 Alabdullah also applied for a Research Seminar course with Dr. Chopik, where she worked with a team on a research paper that was recently published. She explained that this experience helped her learn about the process of developing a research question, collecting data, and writing a research paper.  
Additionally, Alabdullah presented a research paper focusing on the mental health of civilians affected by war at the 2022 Annual Meeting of the North Central Sociological Association. She had originally written the paper for Sociology 350, Society and Mental Illness, with Dr. Jodi Yelinek. 
These research experiences changed her plans after undergrad, and she now hopes to pursue a Ph.D. in Clinical Psychology to combine her passions for therapy and research. Alabdullah is committed to researching the mental health and well-being of refugees and immigrants. She hopes to develop culturally aware interventions that are specific to the unique experiences of this population, contributing new knowledge that can be used by health professionals and refugees and immigrants themselves. 
She is passionate about contributing to psychology and making an impact in the field with research. She also believes that everyone deserves a higher quality of life and strives to help others care for their mental well-being to improve their life satisfaction. 
"When your circumstances are very tough, when you think that the odds are against you, don't let that dictate your life," said Alabdullah. "If you have a goal, you can make it happen with your decisions. A lot of people before us did it, so there's no reason why we can't do it. I know not a lot of us have the resources to make the journey easier for us, but we can't let that stop us from pursuing those dreams and goals. When you're focused on that goal, things work out for you." 
Alabdullah's success is a testament to her hard work and perseverance, and she hopes that her experiences can inspire others to keep trying, regardless of the challenges they face.