Student Resources COVID-19
In this time of uncertainty, it is important that our students have up to date information on the status of resources available to them both on campus and in the greater Lansing community. As the COVID-19 situation evolves, we will update this page to reflect changes in student resources.
Please contact Caroline Kraft, kraftca3@msu.edu, if you would like to add resources to this list.
Campus Resources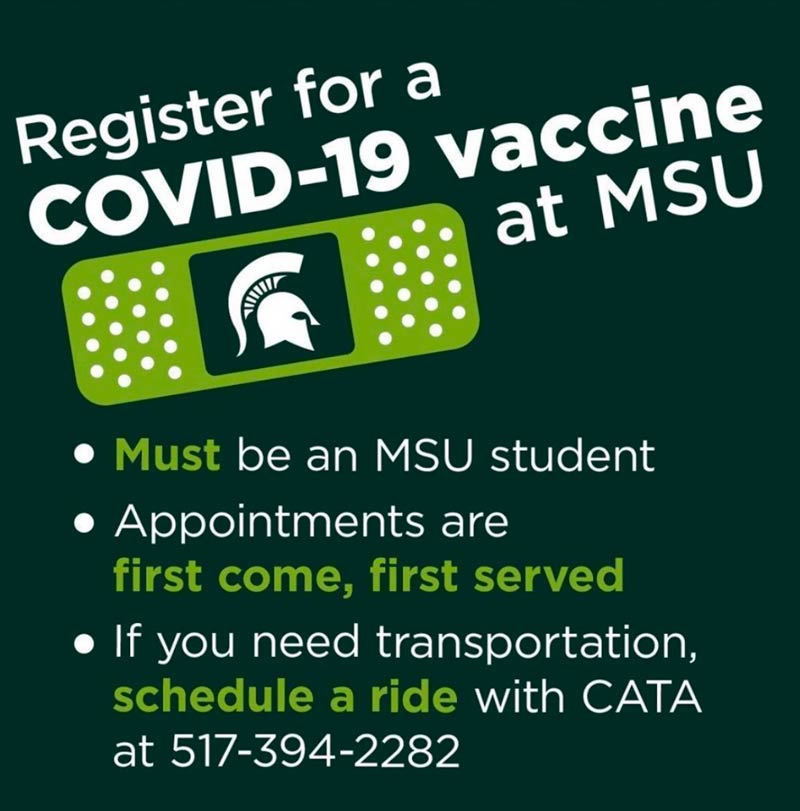 https://msu.edu/together-we-will/communications/2021-04-07-student-vaccine-clinic.html
Starting Friday April 9th, we will begin administering the Pfizer vaccine to MSU students 18 and older, regardless of immigration status or primary residence, at the MSU Pavilion for Agriculture and Livestock Education. Students must select an appointment to receive a vaccine using this link: http://hd.ingham.org/coronavirus/r_1010.aspx.
The Pfizer vaccine is a two-dose vaccine available to adults at least 16 years of age. Individuals are considered fully vaccinated two weeks after receiving both vaccines.
Appointments are available on a first-come, first-served basis. Please check the appointment link often; new appointments are added regularly.
What you need to know as you plan to receive a vaccine through MSU:
On the day of your vaccination, you will need to bring with you a valid MSU student ID. If you don't have a physical ID, a virtual ID is available using the

 

MSU app. Your status as a student will be verified upon arrival. A valid state ID, passport or driver's license also is acceptable.
Plan to arrive 10-15 minutes prior to your appointment.
If you need transportation to your appointment, Capital Area Transportation Authority (CATA) is providing

 

free

 

transportation to and from appointments seven days a week to this location and other vaccine locations throughout Ingham County. Call 517-394-2282 to schedule your trip, which must be scheduled at least 24 hours before your appointment. CATA is also running a regular route to Lot 89, directly across from the MSU Pavilion.
If driving yourself to the appointment, follow signage directing you to MSU's student vaccination site.

 

A map is also available here.
Review our

 

frequently asked questions

 

about COVID-19 vaccines.
Student COVID-19 Financial Relief Program (Spartan Relief Fund2) (Updated 03/31/21)
The Coronavirus Response and Relief Supplemental Appropriations Act, enacted on December
27, 2020, has provided a second round of COVID relief funding to MSU, approximately $15
million of which will be awarded to students in the form of emergency financial aid grants.
These funds are referred to as the "Spartan Relief Fund2." Find out more information here:
https://finaid.msu.edu/read/SpartanReliefFund2-Instructions.pdf
Note on Flu Season during the COVID-19 Pandemic (Updated 01/08/21): Aside from social distancing, wearing a mask, and quarantining if you have been exposed to COVID-19, one major way to help the community and the overwhelmed health care system is to get a flu shot this flu season. Click the following link for additional information on influenza and where to get a flu shot: https://www.helpadvisor.com/conditions/flu-vaccine-resource-guide
Early Detection Program: MSU's Reopening Campus Task Force created an Early Detection Program to track COVID-19 on campus in real time, but we need you (and your spit) for this program to work. Click the link to learn more & volunteer: http://humanmedicine.msu.edu/community-detection-program/
Campus Housing Information & Updates: (Updated 08/23) https://president.msu.edu/communications/messages-statements/2020_community_letters/2020-08-18-plans-change.html "Effective immediately, we are asking undergraduate students who planned to live in our residence halls this fall to stay home and continue their education with MSU remotely." 
Housing and Dining Options: (Updated 08/23) 
MSU is asking undergraduate students who planned to live in residence halls this fall to stay in their current locations

 

and continue their education with MSU remotely.
MSU also realizes that for some students, MSU is their home or they need to be on campus for employment, required labs for graduation, performance-based classes and student visa status. Just like we did this past spring, we will continue to provide a safe place for a small number of students to reside in our residence halls
Housing assignments

 

for the fall 2020 semester will be canceled and 2020-21 housing contract will be terminated,

 

unless a student

 

submits an Application to Reside On-Campus

 

before 8 a.m. on Monday, Aug. 24. 

Students who do not move to campus will receive a room and board refund for fall 2020, and students who have signed up for large-item drop off will have their $50 refunded.

It is our expectation that students who can live at home will live at home and not return to East Lansing for the fall 2020 semester. It is not intended for students to obtain off-campus housing .

 

Open dining halls will offer enhanced grab-and-go options

. Click here for more information.
MSU Food Bank: (Updated 08/24): To schedule an appointment go to this link: https://msustudentfoodbank.setmore.com/
Until further notice, we will be open by appointment only. Students are allowed 1 visit per week. By clicking the link below, you can register for a slot during our variable open hours. 
To minimize contact, all orders will be taken over the phone. When you set your appointment your phone number will be included. We will call you shortly before your scheduled arrival time to take your order. PLEASE have your phone near by when your appointment time is near.
Once your order has been placed we will fill it and place it on a marked table outside the MAIN Doors of Olin Health Center. Be sure to only take the order that you placed with your name labeled next to it. 
When signing up using the link below please do the following:
sign up using your full given name. This will help us find you in our system
use your MSU email
visits are limited to ONE per HOUSEHOLD per week, not per person 
CATA Updates: (Updated 08/24): CATA is changing bus route operations starting 08/31/2020. Click here for more information on route changes. Call CATA's special emergency hotline at 517-999-2549 for questions about the impact of COVID-19 on its services.
Parking on Campus (Updated 08/24): http://police.msu.edu/covid19/
The Parking Office will be closed for walk-in service, however, impounded vehicles will still be released upon payment.
Parking Office services will be available to the best extent possible via telephone
Parking violation payments:
Complimentary parking is available in the following parking areas through 12-31-2020:
Parking violation appeals may only be submitted

 

online
International Student Resources: https://oiss.isp.msu.edu/
Internet Access On and Off Campus: https://remote.msu.edu/learning/internet.html
Public Wifi Hotspots in Michigan: (Updated 08/24)  http://cngis.maps.arcgis.com/apps/webappviewer/index.html?id=0d69accbb5ff422a82eccc2c9101b69d
Tools used for Remote Learning: https://remote.msu.edu/learning/collaboration-tools.html
Libraries: (Updated 08/24) https://lib.msu.edu/covid19/OnlineDistanceLearningResources/
"The Main Library will reopen August 31 with reduced hours and limited capacity. Outside of safety, our top priority is to provide access to all of our collections. We will continue to offer virtual services. We also are paging materials, and we will have touchless lockers available this fall to pick up materials. We will continue to mail materials to faculty, staff, and students living off-campus. Though the building will be open, we encourage you to use our convenient distance services."
RCPD: https://www.rcpd.msu.edu/teamrcpd (Updated 3/19) Resource Center for Persons with Disabilities (RCPD) Staff are working remotely and remain intent on ensuring MSU remains a model of accessible education. See the link above for contact information and online meeting options.
Olin Health Center (Updated 08/24): https://studenthealth.msu.edu/coronavirus.html
Student Health Services appointments will be available for all regular visit types - women's health check-ups, physicals, STI check without symptoms, medication refills, illness, injuries, etc. 

Medical appointments must be scheduled before entering the building.

CALL 517-353-4660 
The Scheduling Office can be reached Monday, Wednesday, and Friday from 8:00 a.m. to 11:45 a.m. and 12:45 p.m. to 4:50 p.m and from 8:30 a.m. to 11:45 a.m. and 12:45 p.m. to 4:50 p.m on Tuesdays and Thursdays
New Safety Precautions for patients and staff include:
All staff and visitors must wear a

 

face covering.
Appointments must be scheduled prior to arrival, no drop-in visits.
Enhanced cleaning precautions have been implemented.
Plexiglass installation at check-in, cashier's office, and other visitor contact areas.
Offices are closed 11:45 am to 12:45 pm each day.
Visitors will have their temperature checked and be asked screening questions at the entrance. (Please allow extra time prior to your appointment.)
Payments can be made by credit card in the Cashier's Office. Credit card payments can also be made online through the MyMSUHealth

 

patient portal or by calling 

(800) 964-3968

. Checks can be mailed to the address on the paper bill.
Testing for COVID-19 (Updated 08/24): MSU Health Care shut down the COVID-19 drive-through testing center on June 12th. To find a COVID-19 testing center near you, click here.
Counseling & Psychiatric Services (CAPS) (Updated 09/11) https://caps.msu.edu/index.html
All CAPS' services will remain virtual

Our routine on-campus operations (e.g. Olin Health Center, MSU Union, embedded counselors in REHS and VetMed) remain suspended except in the rarest of extenuating circumstances. If a student is not able to receive virtual care, we ask them to let us know so we can seek to provide accommodations.
CAPS uses HIPAA-complaint Zoom and Phone as virtual service platforms. 
Crisis Services

 

will remain available virtually 24/7/365 by calling our phone line at 517-355-8270 and pressing "1" to speak with a crisis counselor at any time.
Students not in crisis who wish to get connected to any CAPS service (e.g., counseling or psychiatry) can begin our universal intake process by pressing the

 

"Click here to get started"

 

button on our homepage.



CAPS Fall Virtual Outreach

Virtual CAPS Connect (Updated 09/11)

CAPS Connect is a consultation-based service for MSU students in which specific CAPS staff are assigned to unique student populations/areas of campus. Through brief 10-15 minute consultations, CAPS staff are able to listen, help students problem-solve specific issues, and develop a relationship that may transition into additional care when needed. Prior to the COVID-19 pandemic, CAPS Connect was offered on-site at various locations across campus. CAPS Connect will resume during the week of September 14th-18th, 2020 and will be provided through a virtual platform. For the College of Social Science, the CAPS Connect day/time is Wednesdays from 1:30-3:00 p.m. Students can sign up for for CAPS Connect at the following link: https://www.signupgenius.com/go/8050D4EA4A822A5FF2-caps

 CAPS is MSU's Counseling and Psychiatric Service for students. Connect is a program that was launched last year to give students more direct contact with CAPS through advertised drop-in hours in locations across campus. During posted hours, Social Science had a CAPS office in Kedzie, but all CAPS services are remote now.

 For more information about CAPS Connect, please visit https://caps.msu.edu/services/CAPSConnect.html

Virtual Outreach Services - Podcasts and Pre-Recorded Videos

Since outreach services were transitioned to virtual offerings, CAPS staff have been providing virtual webinars over zoom. Additionally, there are podcasts and previously recorded videos that are available for viewing.  Topics include, but are not limited to Gratitude, Coping with COVID-19, Coping with Adjustments, Couples Dynamics, Mindfulness and Self-Care. See topics and links below:

Virtual Care Kit

Given our current times, CAPS has produced a "Virtual Care Kit." This kit includes information on goal setting, connection, dealing with uncertainty and loss, and meaning and motivation. The virtual care kit is designed to help promote the growth and well-being of our MSU students. The Virtual Care Kit can be found on our homepage or by clicking here: https://caps.msu.edu/_assets/pdfs/MSU_CAPS_virtual_care_kit.pdf

 
Fitness and Wellness (Updated 08/24): All rec and sports facilities on campus are closed, but free at home workout resources are available under the resources tab at https://healthpromotion.msu.edu/fitness/index.html
Greater Lansing Community Resources
Local Grocery Store Hours (Updated 08/24): Grocery stores have returned to normal operating hours.
East Lansing Public Schools Meal Distribution Plan (Updated 08/24): 
ELPS said meal distributions will continue through the fall 2020 semester.
Meal distributions will take place every Thursday from 12 p.m. to 2 p.m.
The district said meal distribution will be pick-up/drive-thru at East Lansing High School and food will be passed out from the loading dock area.
ELPS said you may pick up a week's worth of meals for any child 18 and under and for young adults with special needs age 26 and under. The district said to bring a box or laundry basket to collect the meals.
If you don't have someone who can pick up the meals for you, you can email dor.leyko@elps.us or call 517-333-7426 and include your name, number of children and address so that delivery arrangements can be made.
Children do not have to be enrolled in the East Lansing Public School system to receive meals.
Lansing School District School Closure Food Service (Updated 08/24): Click here for information.
Greater Lansing Area Restaurants: Hours, Status, Websites: Local Restaurant Status
General Help: Housing, Bills, Food Pantry Options, Support: https://www.mi211.org/
"Michigan 2-1-1 is an easy way to connect with help of all kinds, right in your community. Need help with food, housing, or paying bills? Need support in a family crisis or community disaster? We're here for you. Just call, text, or search online and we'll get you connected."
211 Connects you with government and non-profit organizations across the state of Michigan 24 hours a day, 7 days a week. The operators also help in 180+ languages.
 Call them by dialing 211 on your phone, or text your zip code to 898211.
COVID-19 Health Questions
The Michigan Department of Health and Human Services has opened a hotline will be open seven days a week from 8 a.m. to 5 p.m. at 1-888-535-6136.