Two MSU Psychologists Elected as Fellows of the Society for Industrial and Organizational Psychology
May 3, 2023 - Shelly DeJong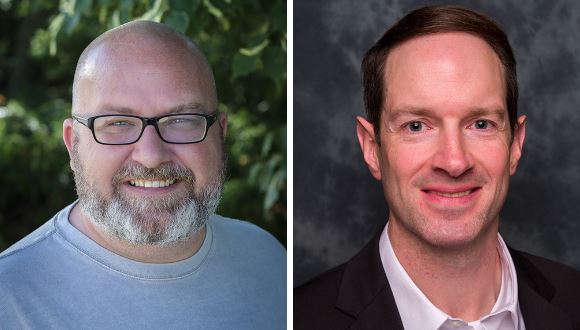 Michigan State Psychology is proud to announce that two of its esteemed faculty members in Organizational Psychology, Dr. Nathan Carter and Dr. Christopher Nye, have been elected as fellows of the Society for Industrial and Organizational Psychology (SIOP). This recognition is a testament to their outstanding contributions to Industrial and Organizational Psychology. 
SIOP seeks to advance the science and practice of I-O psychology, a discipline that focuses on improving the performance and well-being of individuals in the workplace. They recognize individuals who have demonstrated exceptional achievements in their contributions to I-O psychology, including research, practice, teaching, administration, and service. 
Dr. Carter was recognized for his work on personality and measurement and his contributions to the field. He has earned two NSF grants, multiple industry contacts, and has published in top outlets. His peer-reviewed publications have won the Hogan Award for Personality Research in the Workplace, the Jeanneret Award for Individual and Group Assessment Research, and honorable mention for the Owens Scholarly Achievement Award. He has published in major handbooks, served as SIOP Historian, and has served as panelist on Early Career consortia and multiple NSF panels. He has served as associate editor of Journal of Research in Personality and Personnel Assessment and Decision and serves on five other editorial boards. 
Dr. Nye was recognized for his work in employee selection and assessment, quantitative research methods, and the influence of individual differences in the workplace. He has published 50 articles and 11 books or chapters and received over $1,000,000 in funding from federal funding agencies and private organizations.  He received the Early Career Achievement Award from the Academy of Management Research Method Division, the Innovations in Assessment Award from the International Personnel Assessment Council, and SIOP's M. Scott Myers Award for Applied Research in the Workplace. He has held several research fellowships, including Consortium Research Fellow for the Defense Manpower Data Center, Senior Consortium Research Fellow for the U.S. Army Research Institute, and Class of 1967 Leadership Research Fellow at the U.S. Naval Academy. He is editor of the International Journal of Testing, associate editor of the European Journal of Psychological Assessment, and serves on six editorial boards. 
The eligibility criteria to become a fellow of SIOP require the candidate to be a current Society Member for at least two years, accumulate 10 years of professional membership in SIOP, and demonstrate evidence of significant and sustained impact on the field of I-O psychology. Nomination is made by another Society Member or Fellow, and self-nomination is not permitted. 
MSU congratulates Dr. Carter and Dr. Nye on their remarkable achievement and looks forward to their continued contributions to the field of I-O psychology. Their recognition as fellows of SIOP reflects the exceptional work of MSU's faculty and the University's ongoing commitment to excellence in research, teaching, and service.