Drs. Jae Puckett and Kaston Anderson-Carpenter receive grant from NIMHHD to measure minority stress in transgender and gender diverse people
September 24, 2020 - Liz Schondelmayer
A team of Michigan State University social scientists and a co-investigator at the University of Oregon recently earned a grant from the National Institute on Minority Health and Health Disparities to develop new ways of measuring minority stress among transgender and gender diverse (TGD) people.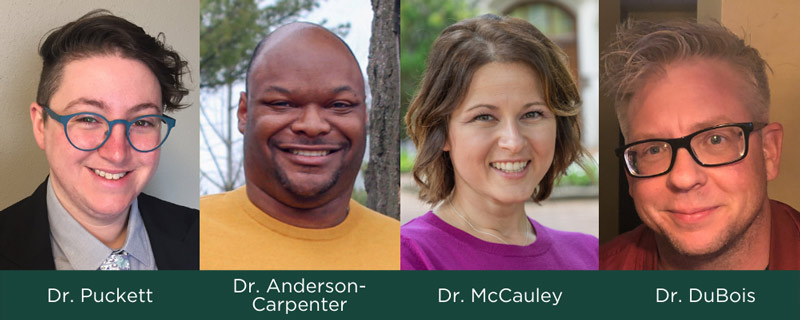 Caused by stigma, discrimination, social inequality and lack of social resources, minority stress is commonly experienced by transgender and gender diverse people. According to the research team, research-backed quantitative minority stress measures developed for TGD people specifically will help scientists to better understand this stress, and its negative impact on TGD people's physical and mental health.
While theories about minority stress  already exist, research leader and MSU psychologist Dr. Jae Puckett emphasizes that they need some serious updating. "Many of these research frameworks and measurements for assessing stress were developed for cisgender people," they explain. 
"When transgender and gender diverse people's experiences are forced to fit into frameworks established for other populations, many of their experiences go understudied or completely unseen."
Dr. Puckett is working alongside fellow MSU social scientists, psychologist Dr. Kaston Anderson-Carpenter and Dr. Heather McCauley from the School of Social Work, as well as anthropologist Dr. Zachary DuBoius from the University of Oregon, to begin researching new frameworks to better understand this phenomenon.
Click here for the full story.