Organizational Psychology
Overview
Organizational psychology uses scientific methods and psychological theory to understand the workplace. Organizational psychologists research ways to make teams more productive, employee selection methods more effective and unbiased, and workplaces safer. The MSU program has world-class faculty members who have impacted the field in terms of generating new research areas for the whole field to follow, graduating outstanding Ph.D. students who succeed in both academia and practitioner roles, and shaping workplace-related public policies.
Program Highlights
Philosophy
The aim of the graduate program in Organizational Psychology at Michigan State University is to provide Ph.D. level training to students who intend to obtain faculty positions in universities or research-oriented positions in major corporations, government, or other organizations. The program provides a strong background in psychology and quantitative methods, as well as the content of Organizational psychology.
In addition, there is an excellent working relationship with the Department of Management, Eli Broad College of Business, and with the School of Labor and Industrial Relations. Such a strong link is unique among most Organizational psychology programs. Students and faculty from these programs frequently are involved in joint projects.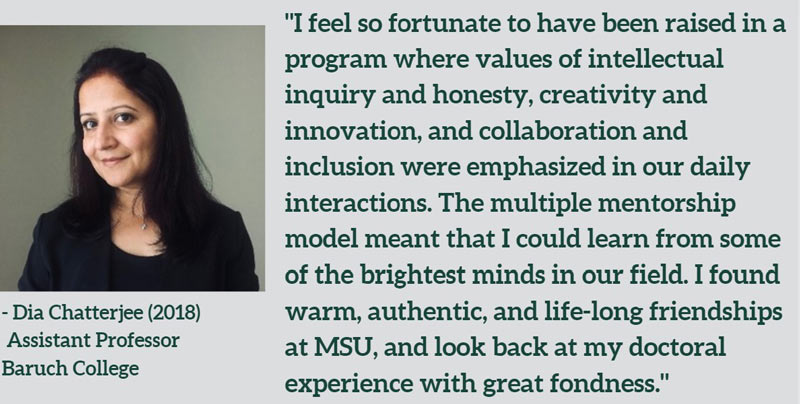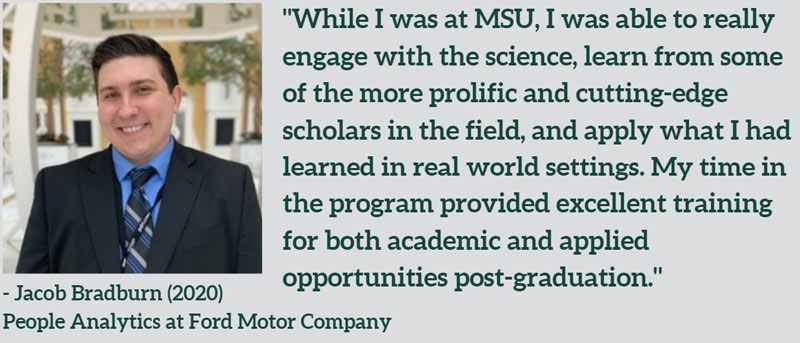 Frequently Asked Questions