Dr. Mark Brandt was awarded the Early Career Award from the International Society of Political Psychology
July 20, 2021 - Caroline Kraft
Dr. Mark Brandt was awarded the Jim Sidanius Early Career Award from the International Society of Political Psychology. The International Society of Political Psychology said the following about Dr. Brandt: "
Dr. Mark Brandt
 has been an amazingly productive scholar in the eight years since earning his Ph.D. His work is methodologically flexible and adept and he is intellectually curious and productive, becoming a top political psychologist of his generation.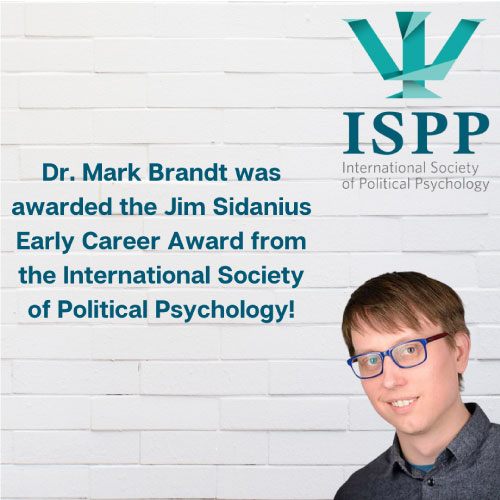 His work has been consequential and is highly cited, and his interests and contributions have been broad and theoretically important. Dr. Brandt's most recent work on belief system networks tries to change how we study belief systems by focusing on the idea that belief systems are interconnections of attitudes and identities that can be modeled (e.g., with network analyses). His initial work on this idea has shown that political identities are central to belief systems, that belief systems can be replicable, and that conservatives' moral belief systems are more tightly integrated than liberals' moral belief systems." Read more about Mark's work and the Jim Sidanius Early Career Award here.