MSU Psychology Alumna Becomes First Woman President at Dartmouth
August 5, 2022 - Shelly DeJong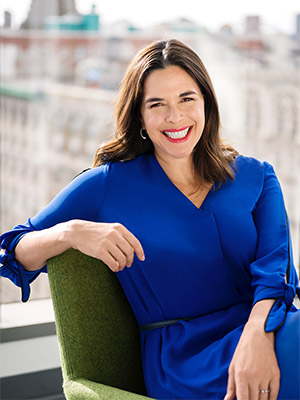 The College of Social Science congratulates alumna Sian Leah Beilock, on her recent election as the 19th President of Dartmouth College. Dr. Beilock, who earned doctorates in both kinesiology and psychology from Michigan State University, is the first woman elected to the position in Dartmouth's more than 250-year history.
"I am thrilled for this next chapter, and honored and humbled to be joining a university with a storied tradition of academic excellence," said Dr. Beilock.
Beilock, a cognitive scientist known for her research on "choking under pressure," is currently the president of Barnard College.  She received her undergraduate degree from the University of California before attending MSU as a graduate student.
"The Department of Psychology at Michigan State is thrilled for Dr. Beilock as she assumes the role of President of Dartmouth College," said psychology department chair Brent Donnellan. "We are incredibly proud of her trajectory and wish her the best."
While at MSU, Dr. Beilock worked with Psychology Professor Thomas Carr and Kinesiology Professor Deborah Feltz to explore why people perform more poorly than expected in high stakes situations.
"I wanted to know why I sometimes didn't perform my best when the pressure was on," said Dr. Beilock. "I also realized that there was a lot of research on how people learned skills, but less on why they sometimes didn't perform well when it mattered most."
In 2010, Dr. Beilock published the critically acclaimed Choke: What the Secrets of the Brain Reveal about Getting it Right When You Have To and followed the success up in 2015 with How the Body Knows Its Mind: The Surprising Power of the Physical Environment to Influence How You Think and Feel. In 2017, Dr. Beilock gave a TED talk that has since been viewed over 2 million times.
"My time in psych and kinesiology taught me about the power of having really great people around me," said Dr. Beilock. "My research and my thinking improved because of the questions my advisors and fellow PhD students asked me."
She advises incoming MSU graduate students to "take advantage of all the amazing people around you. Get to know their research, their work, and ask them to challenge your ideas and assumptions. The best ideas, in my mind, come from lively and engaged debate where people don't always agree."
"I loved everything about the school, the place, the people and the academic rigor," said Dr. Beilock.