Ten Outstanding Young Americans Award Names MSU Psychology Alumna
September 8, 2022 - Shelly DeJong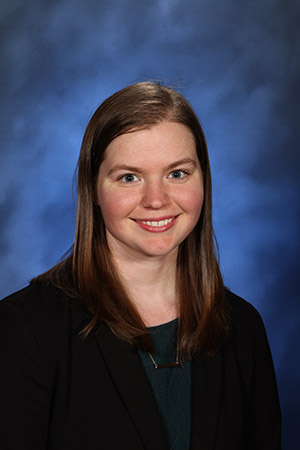 The College of Social Science congratulates psychology alumna Jennifer Lawlor on receiving the Ten Outstanding Young Americans Award by JCI USA . Dr. Lawlor, who earned a doctorate in ecological-community psychology, works to help communities understand, share information, and move to action on complex social issues.  
"I was out having dinner with my family when I got the call and I was super surprised," said Dr. Lawlor. "I felt really grateful in that moment for all the people that nominated me and helped me get to that point as well."  
The Ten Outstanding Young Americans program has been celebrating the work of people between the ages of 18-40 since 1934. They celebrate ambitious individuals who work to create positive change locally, nationally, and globally. Previous recipients of the award include President Joe Biden, Arthur Ashe, and Leonard Bernstein.  
"Jenny is using cutting-edge research to help communities help themselves," said former advisor Zachary Neal, Ph.D. "She's exactly the sort of person I have in mind as an outstanding young American."  
Rooted in Community Based Work  
Dr. Lawlor received her M.A. and Ph.D. in ecological-community psychology from Michigan State University in 2019. During her graduate studies, she focused heavily on social networks and how communities manage complex problems. She was able to work in several different problem areas including educator networks, local and regional food networks, and community-wide efforts to improve early childhood outcomes.   
"Having worked with so many different problem areas as a graduate student, I learned to always remember that the community members are the experts in what they are doing and I'm there to support them with the tools that I bring in," said Dr. Lawlor. "One of the most important things about doing community-based work is needing to adapt and work directly with the assets and needs that the community members have."  
After earning her Ph.D. and completing a postdoctoral fellowship at the University of Michigan, Dr. Lawlor worked at the Center for Community Health and Development at the University of Kansas. The Center offers a free, online resource called The Community Tool Box , which helps guide communities as they begin working on change efforts. Dr. Lawlor worked with these groups to make sense of their data and help determine what kind of tools they need to move the work ahead.   
Recently, Dr. Lawlor began working as a network data scientist at Visible Network Labs, where they develop software that supports communities in evaluating their social networks to help them achieve their goals.   
As a community psychologist, Dr. Lawlor appreciates the empowerment focus that these organizations have. Each community partner can use technology to take ownership of its data and resources and decide for themselves how they want to use them. She also appreciates that because this work spans to many different partners, she and her colleagues have a unique ability to zoom out and look for patterns that might be relevant to everyone doing this type of work.  
"My goal has always been to work with communities—to support them in addressing hard problems and find the things that are most important to them—in a way that is most meaningful for them," said Dr. Lawlor. "I feel really lucky that I get to do that every day."