Ecological-Community Psychology graduate student receives the Caldwell Award
March 29, 2023 - Shelly DeJong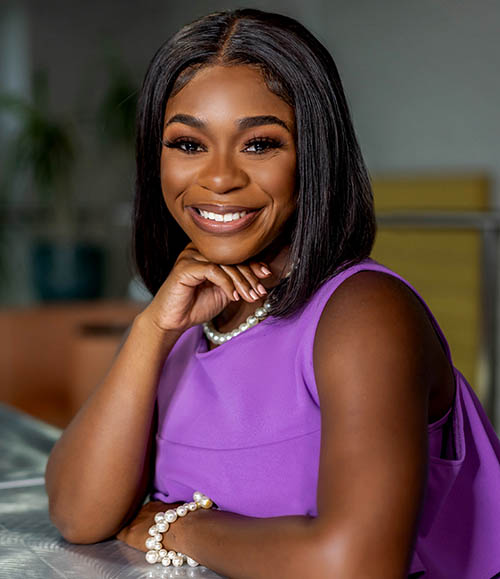 Jaleah Rutledge, a graduate student in the Ecological-Community Psychology program, was awarded the Bob and Bets Caldwell Land Grant Values Award for her notable record of service-oriented research, mentorship, and community involvement.  
The Caldwell award recognizes a psychology graduate student who exemplifies public-spirited attitudes and actions that encourage bridging divides to discover unity in common purpose and to be a positive force for hope and possibilities.  
"Throughout her MSU career, Jaleah has demonstrated the qualities of an exemplary land-grant scholar and citizen," said faculty advisor Dr. Robin Lin Miller. "She has excelled as a leader on and off campus despite the limitations of completing a graduate career in the shadows of COVID-19. Her contributions to campus on issues of diversity, equity, and inclusion and to the Lansing community are especially noteworthy. Her scholarship on reproductive justice issues for Black women and girls is as impressive as her citizenship.  
Rutledge's research focuses on reproductive health equity and well-being among sexual and gender minorities. Her current work takes a strengths-based approach to understand Black women's sexual and reproductive wellness. 
In addition to her research, Rutledge served as the President of the Black Graduate Student Association (BGSA) and was among those who organized a coalition focused on achieving equity for Black members of the MSU community. Rutledge has been an active leader in the Alliances for Graduate Education and the Professoriate program, a mentor to undergraduate and graduate students, and an ASPIRE lead presenter for high school students in Lansing. She also volunteers as an HIV test counselor at the Lansing Area AIDS Network. 
"I'm honored and grateful to have received this award. When you do service-oriented work, especially those that are aligned with the values of this award, you don't do it for recognition," said Rutledge. "You do it because there is a need. You do it to help other people. You do it to keep advancing your community. It means a lot to win."  
A Service-Oriented Mindset  
Rutledge credits her parents for ingraining a service-oriented mindset in her from an early age. As a community psychologist, she also sees the importance of being involved in a community herself. Moving to Lansing for graduate school motivated her to find community and places where she could make an impact. She recognized that as a young person herself, she could connect with high school girls through the Delta G.E.M.S. program. She  became involved with BGSA to find community. She took on a leadership position to ensure that other Black graduate students coming to MSU would have the same space for the community that she did.  
As she talked with people from the community, she started to think about sexual and reproductive health issues differently which has helped inform her research. It also inspires her to keep on going with her work.  
"Interacting and talking to Black women and knowing and seeing the disparities in reproductive health, is a reminder that the work is not done. There are still leaps and bounds to go to ensure sexual and reproductive health equity for Black women," said Rutledge. "That's what keeps me motivated, knowing that we can create and reshape systems to enable Black women to have more positive experiences."

Rutledge's dissertation works to give space and voice to Black women. She is in the process of interviewing Black women on their sexual health experiences. Through a two-interview process, Rutledge will draft the stories of each interviewee. At the end of the process, they will discuss if the interviewee sees themes of resiliency throughout their story.  
"Black women experience a plethora of health disparities that are often driven by years of systemic oppression. Despite this, many Black women still manage to have favorable sexual and reproductive health outcomes," said Rutledge. "One of the main goals of my research is to center and elevate the voices and experiences of Black women. I do this as a mechanism to shift the negative narrative on Black women's sexual and reproductive health. The experiences women have shared with me in the interviews shed light on major gaps that exist in our current sexually transmitted infection prevention framework and provide insight on how to fill these gaps."