Degree Requirements
The following requirements are for students who began in the psychology major fall 2021 or after. For students who matriculated prior to fall 2021, students should refer to their degree handbook listed below in the accordion folder.
Requirements for a Bachelor's Degree in Psychology
To ensure you receive an appropriately broad and well-balanced education at MSU, psychology majors must satisfy the requirements of three separate units that represent three administrative levels:
the University
the College of Social Science
the Department of Psychology 
You must meet the graduation requirements of each unit.  In addition, you will need to choose elective coursework to achieve the minimum number of 120 credits for a degree.  You must complete 30 credits at the 300 or 400 level. 

An illustration of the degree framework is shown below: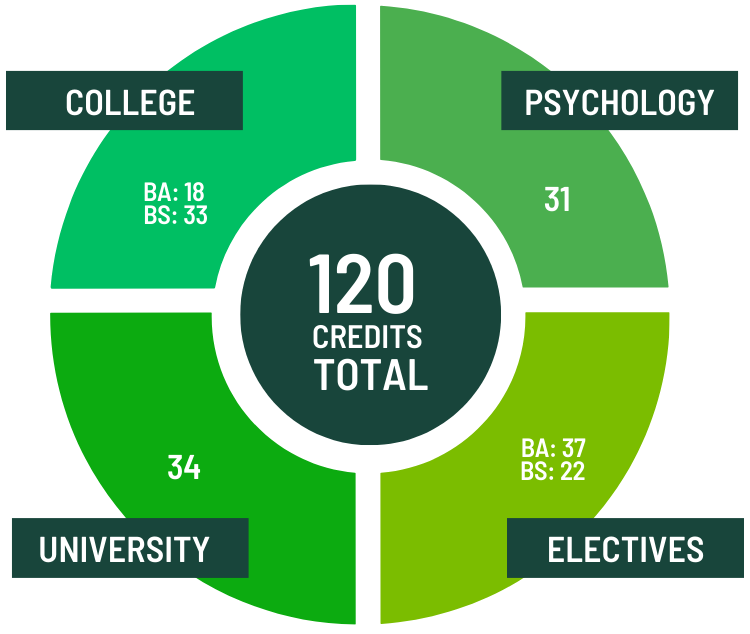 Specific Degree Requirement Information
The following is a brief summary of University requirements; however, the Academic Programs catalog http://reg.msu.edu/AcademicPrograms/ is the official source for University policy:
· Complete a minimum of 120 credits with a 2.0 or better cumulative MSU GPA.
· Achieve a 2.0 or better Psychology cumulative GPA at MSU.
· Complete a minimum of 30 credits at MSU with a minimum of 27 credits on the East Lansing campus after junior status.
·  Earn a minimum of 20 credits while in the major.
·  Courses used to satisfy specific degree requirements may not be taken for CR/NC .
·  No more than 10 of a student's last 30 credits may be transferred from a 4-year accredited college/university.  PRIOR APPROVAL IS REQUIRED.
· No more than 60 credits from a community college will be alllowed.
Note:  Before taking a course at another institution, you should clearly understand the MSU Policy on transferability of courses.  For more detailed information, please go to http://transfer.msu.edu/ and consult with your academic advisor.