Undergraduate Research
Why become involved in research?
Research experience is extremely important for graduate school applications

Research enhances your understanding of concepts in psychology courses

Being in a lab helps you get to know other people who have similar interests

Research is challenging but rewarding!
Psychology majors are encouraged to become involved in research in our deparment. There are many opportunities to join labs in each of our six areas of interest: Behavioral Neuroscience, Clinical Science, Cognition & Cognitive Neuroscience, Ecological / Community Psychology, Social / Personality Psychology, and Organizational Psychology. To find out more about the labs in our department, click
here.
How to Locate Research Opportunities

There are opportunities in the Department of Psychology for students to get involved in a faculty member's research lab, either as a volunteer or for credit (via PSY 490 or PSY 491). The following are ways to identify these opportunities: 

• View Listings for Independent Study positions on the tab below. Faculty and psychology graduate students post positions throughout the year. 

• Read through the "Independent Studies" notebook in the advising library (100 PSY Building).

• Students can view the Research area of the Psychology website to identify research labs of interest and learn more about the faculty and students participating in that research area.  Many of the lab websites include recent publications that students can read prior to contacting the faculty.  After reviewing their information, students can contact those that most closely resemble their interests.

Independent Studies: Research for Credit

Independent Studies: Research For Credit 

Independent studies are important for students planning to apply for graduate school. This experience gives students great opportunities to work with faculty in the research environment. Research credit can be earned through PSY 490 or PSY 491.

PSY 490 Special Problems in Psychology (fall, spring, summer)

 Description: Students work under the direction of a faculty member on an experimental, theoretical, or applied problem. This is a graded course. 

Restrictions: As specified by the faculty of record. A maximum of 1 - 8 490/491 credits can be taken in a semester with a combined total of 12 independent study credits for the degree. Needs instructor and departmental approval.

 PSY 491 Participation in Psychological Project (fall, spring, summer) 

Description: Students participate in a psychological project under direction of a faculty member. This is a pass/no grade course (no grade, only credit). 

Restrictions: As specified by the faculty of record. A maximum of 1 - 8 490/491 credits can be taken in a semester with a combined total of 12 independent study credits for the degree. Needs instructor and departmental approval.

 

See the list of independent studies below: 

 

(09-13-19) RA positions for CBCC Lab 

Are you a current Michigan State undergraduate student? Are you interested in working in a research lab? Undergraduate research assistants in the Computational Basis of Cognitive Control Lab will have an opportunity to participate in a variety of research activities and learn firsthand how research is conducted, offering great learning experiences for undergraduate students. The CBCC lab's mission is to understand the computational principles that allow us to encode new memories and search for existing memories. We are looking for students with computer programming experience to help develop computer models of memory using behavioral and EEG data.

Requirements:
·       Minimum GPA: 3.5
·       Experience in programming in Python or Matlab
·       5 hours a week time commitment for 2 semesters
 
Questions:
If you have any questions, email Dr. Karl Healey: khealey@msu.edu
 
Apply:
To apply, visit our website: https://cbcc.psy.msu.edu/join

 

(09-02-19) Seeking Undergraduate Research Assistant to Join the Cognitive Control Neurolab

The Cognitive Control Neurolab, overseen by Dr. Susan Ravizza, is recruiting undergraduate research assistants to work in the lab.  This project explores cognition in Parkinson's disease.  You will primarily be expected to help recruit participants at MSU's Movement Disorders clinic and collect data for these experiments.  

We are seeking students who are conscientious, self-motivated, and eager to learn and develop new skills.  This is a time-intensive study and applicants should be prepared to commit 9 hours a week, including bi-weekly lab meetings, for a minimum of 2 semesters. A minimum GPA of 3.0 is preferred. 

You may work in the lab as a volunteer or for course credit.  Benefits include:
Research and lab experience
The opportunity to learn new technical skills in programs such as Microsoft Excel, SPSS, and E-Prime
May be eligible to receive a letter of recommendation from Dr. Ravizza. 

 Please contact Eric Chantland at chantlan@msu.edu for more information and to apply.

 

(08-07-19) Seeking Research Assistants for Dr. Becker's Perception and Attention Lab

Project Background: The lab is directed by Mark W. Becker and the main focus of the lab is to investigate the processes that guide the allocation of visual attention.  Under this umbrella, we are investigating a number of specific questions about how people perform visual search for objects, how feedback, reward, punishment, and competition influence performance in simple perceptual tasks, how categorical information influences visual search, and how one's mood or emotion can impact  visual processing.  More information about specific projects can be seen here https://msu.edu/~becker54/lab/...

Undergraduate Responsibilities: Undergraduate assistants will have an opportunity to participate in a variety of research activities, including assisting with research design, running participants, and analyzing data. Many of these experiments use eye tracking technology, so you will also gain experience with eye tracking methods.  The projects are split into a number of smaller experiments. The manageable size of these small units makes it possible for you to be involved in the entire research process from inception through analysis and interpretation.

Requirements: Scheduling is flexible but you must commit to a minimum of 10 hours per week including attendance at regular lab meetings. You should have a GPA of over 3.3 and should have taken at  least one relevant psychology course (e.g., Cognitive Psychology, Brain and Behavior, Statistics, Sensation and Perception). If selected, you would begin in late August and the expectation is that you would continue through then end of the school year.  You can work either as a volunteer or for credit (PSY 491).

If you are interested in joining the lab, please contact the lab coordinator, Katie Anderson at ande1731@msu.edu for information about how to apply. 
There are plenty of opportunities for undergraduates to gain research experience in a lab and learn how to present research to a broader audience.
In April each year, our undergraduate researchers present their work at MSU's Undergraduate Research and Arts Forum (UURAF).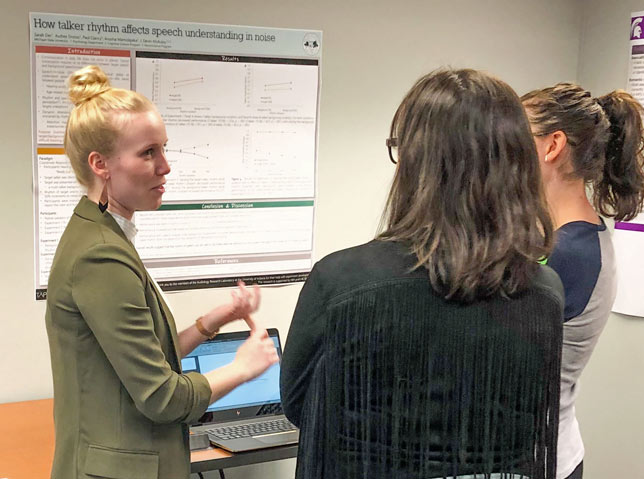 UURAF SSHA Grand Prize Winners
A group of four students won the UURAF Social Science, Humanities and Arts Grand Prize award for their research in Professor Devin McAuley's TAP Lab. Their project, "How Talker Rhythm Affects Speech Understanding in Noise", examined the role of talker rhythm in understanding speech under difficult listening conditions. The group consisted of spring 2019 Honors College graduates.